With Lamont's award-winning student body and world class faculty, coupled with our state-of-the-art facilities, you will find everything here at DU that you need to succeed (and the scene in Denver is INCREDIBLE!)
Please explore our website, check out our videos and tracks and let us know what we can do to help you along your path.
Lamont is the place to be, and we'd like to see YOU here!
One of the best ways to learn about the world of 21st Century Jazz is to see it and hear it first hand.
At Lamont, we bring in successful guest artists from the real world to interact with our students (YOU!)
CLICK HERE to learn about our course offerings (Masters and Undergrad) and see a recommended

four-year

undergrad quarter-by-quarter schedule.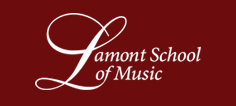 Episodes from the office of our jazz piano prof, virtuoso teacher of improvisation and coach of the award-winning Small Group 1
Wanna learn? Ask
"What's Up With Eric?"
The University of Denver/Lamont School of Music
Attention Steve Wiest and Art Bouton
2344 E. Iliff Avenue
Denver, CO 80210
​
303-871-6400
​
CLICK HERE to send an e-mail to
Steve Wiest and Art Bouton